Eating healthy for me is essential, but it's also even more essential for me to give my daughter healthy snacks and options to ensure she grows strong and stays well, healthy. I think a lot of people have a misconception about the "look" of wanting to eat healthy and may misjudge and think someone is solely doing it so they look better, but in all actuality that's just a perk to the fact that your overall body is healthy and to me THAT is the key goal!
New Year's resolutions are easy to make but difficult to maintain, but I will say I was a New Years Resolution girl. I vowed to get fit 1 year after having Blake, for not only myself but for my daughter and now look at me? I compete in fitness competitions. It became my passion!
For the many Americans who resolve to eat healthier in the New Year, focusing on healthy snacks is an easy way to improve the quality of your diet, especially when you add the Feel Good Fruit to your favorite snacking recipes.
Sunsweet®
prunes and juices are an easy fix to help you stick with your healthy eating resolutions for 2015. The great thing about this Feel Good Fruit is that it's high in fiber, which is a definite essential to incorporate into your diet when beginning your health journey! Also, studies suggest the following positive effects from certain nutrients in prunes:
Bone Health: Prunes may promote healthy bones. Dr. Bahram H. Arjmandi of Florida State University says, "Dried plums (prunes) are the most bone-friendly fruit that I have seen in decades. They are nature's solution to maintaining good bone health." Dr. Arjmandi hypothesizes that the many compounds and nutrients contained in prunes, such as vitamin K, potassium, copper and boron, likely work synergistically to have this positive effect. Additional research is currently being conducted to learn more about prunes and bone health.
Potassium: Potassium may help prevent hypertension and stroke and play a role in helping support cell energy by regulating fluid balance, nerve impulses and muscle contraction to increase energy.
Fiber: A diet containing foods with fiber can replace fats and sweets, and contributes to heart health.
Regularity: A fiber rich diet may contribute to maintaining a consistent digestive tract which helps lead to improved digestive health.
On top of all of those great effects, let's just admit it - prunes taste great! Yes, they have sugar, but a little misconception people have these days is that natural sugar in moderation is NOT bad and your body actually needs it to function properly. This doesn't mean go grab a cake with natural cane sugar - what it means is that you can eat fruits, such as prunes in moderation within your diet and you aren't going to gain weight or bloat. Mix in some complex carbohydrates and your lean proteins and you'll be well on your way to owning that New Years Resolution!
I also love the
Sunsweet

®
Plums too - check out the stats!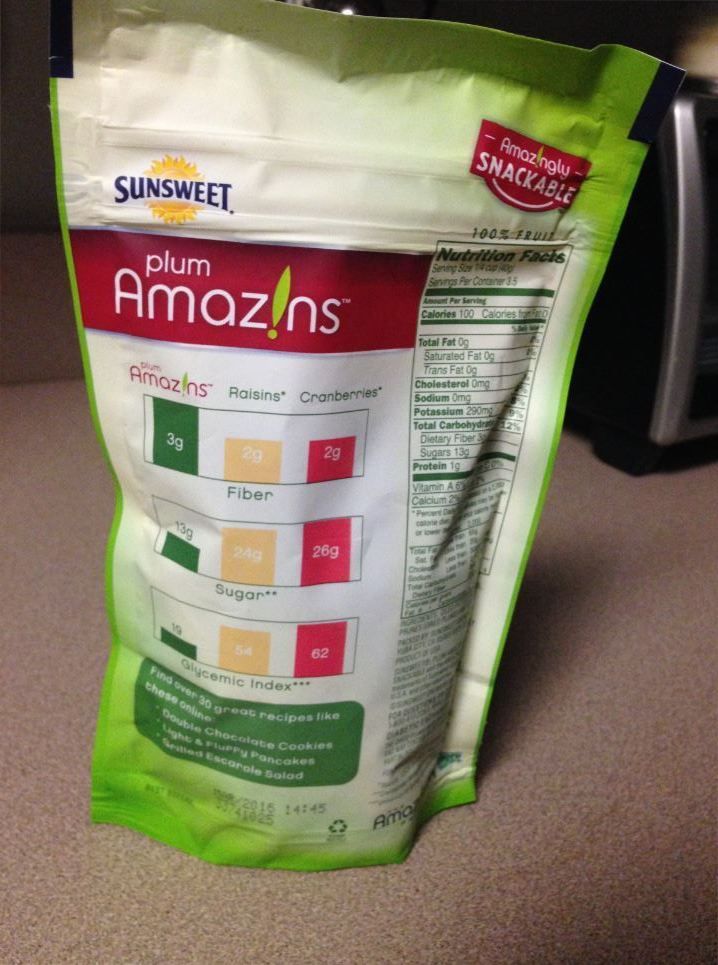 While I'm sharing information about Sunsweet
®
prunes - take a look at these other nutritious products they offer, that would be great for you and your children:
PlumSmart® Light: This juice is made from a special variety of fresh, juicy plums and has only 60 calories and 15g of carbs, and helps you stay fit on the inside by providing a good source of fiber. PlumSmart Light is a great addition to a smoothie.
Amaz!n™ Prunes: These little gems are a good source of fiber for only 100 calories per serving. Amaz!n Prunes are nature's perfect way to feel good with nutrition and delicious taste. Prunes also have a low glycemic index, which means they keep you feeling fuller longer. They add a powerful boost of nutrition and fiber to snack time or your favorite recipe.
Amaz!n™ Diced Prunes: Grab a handful of these delicious diced prunes for nutritious snacking. Toss them in cereal, oatmeal, salad or your favorite recipes for added flavor and fiber. One serving of Amaz!n Diced Prunes is a good source of fiber for only 100 calories. Add to your favorite snacking recipe for extra fiber and a fruit flavor boost.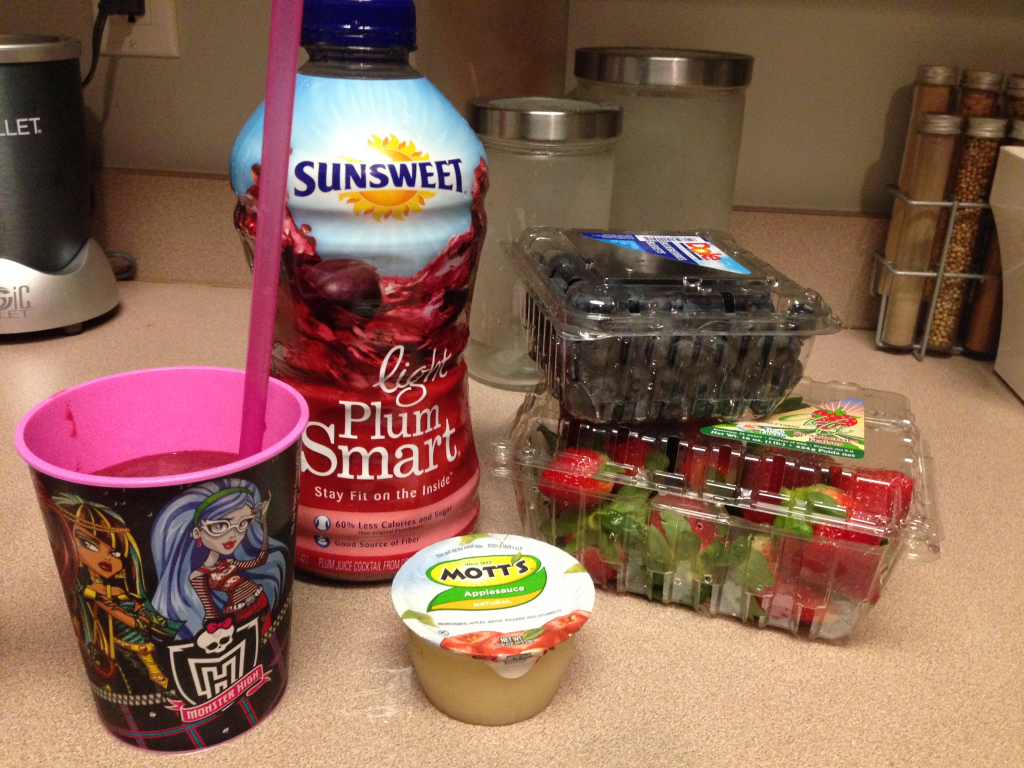 For us - my daughter LOVES smoothies and not only do we make them a meal for her by adding in protein powder occasionally, but sometimes these are a nice dessert for her after a light dinner. We mixed the
Sunsweet

®
Light Plum Smart with some strawberries, blueberries and apple sauce - blended it up with some ice and she loved it! :) PLUS - it was nutritious.
So get to it - try out some awesome products and incorporate some new things to your diet to keep it interesting! Consistency is key and being able to stay excited about your diet is just as important as the results so that you can make it a lifestyle and not just a New Years Resolution diet!
I was selected for this opportunity as a member of Clever Girls and the content and opinions expressed here are all my own.